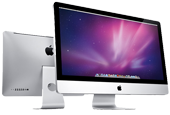 Desktops
The iMac desktops emanate style and elegance, while providing you with a powerful platform for work and play. Just when you thought the iMac had everything, Apple delivers even more: with powerful Intel Core i5 processors and more memory standard on every machine. Combine this with Mac OS X Mountain Lion and iLife '11, Apple delivers the most advanced all-in-one ever. The iMac packs amazing performance into a stunningly slim space. Apple offers three desktop categories: The iMac, the Mac Pro, and the Mac mini.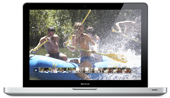 Notebooks
The Apple MacBook Pro MacBook Pro Retina and MacBook Air's deliver the power of a desktop in a advanced all-in-one, portable packaging. Featuring precision unibody enclosures, up to 12 hour battery life, Intel Core i5 or i7  processors, advanced graphics with backlit LCD displays, the MacBook Pro and MacBook Air set the standard for portable computing power. With the combination of advanced Apple hardware and the ease of use of Mac OS X 10.8 Mountain Lion, Apple's Macbook Air, MacBook Pro Retina and MacBook Pro redefine cutting edge computing and portability again.
Software

OS X Mountain Lion includes tons of new features that will transform how you interact with your Mac.  Tap, swipe, and scroll your way through your apps using fluid Multi-Touch gestures that make everything you do feel more natural and direct. Full-screen apps take advantage of every pixel of your display — perfect for reading email, surfing the web, or browsing photos. Launchpad gives you instant access to all the apps on your Mac in a stunning new layout where you can quickly find any app and open it with a single click. And Mission Control brings together Exposé, full-screen apps, Dashboard, and Spaces in one unified experience. With a gesture, your desktop zooms out, displaying a bird's-eye view of everything running on your Mac and making it easy to navigate anywhere with a click. Read more about Mountain Lion here.
iLife
iLife '11 makes it easier than ever to get the most out of the photos, movies, and music on your Mac. Organize and search your photos by faces and places in iPhoto. Make a great-looking movie in minutes and edit with precision in iMovie. Learn to play piano and guitar, or compose and record your own songs with the new guitar amps and stompboxes in GarageBand.
iWork
iWork '11, Apple's office productivity suite, is the easiest way to create documents, spreadsheets, and presentations the Mac way. Writing and page layout are easy in Pages. Numbers gives you simple ways to make sense of your data. You'll captivate your audience with new, sophisticated features in Keynote. And iWork is compatible with Microsoft Office, so it's easy to share your work.
Copyright © 2013 Austin MacWorks, All Rights Reserved